Christmas Lights - 2012-2013
The wettest season - but Haughton's Christmas Lights and spirit remained undampened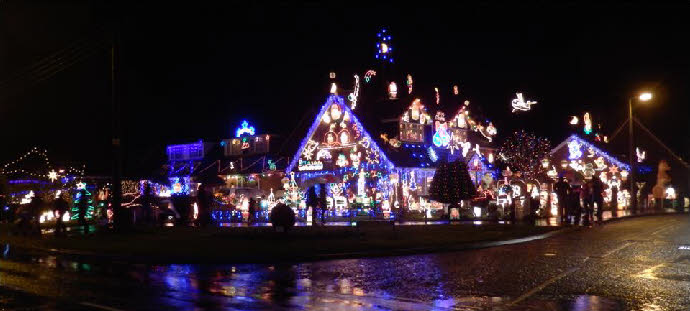 Just what wasn't wanted ...
On Friday 14th December, after several days of dry, crisp, cold and frosty weather, the lights were switched on in a deluge of rain. Undeterred, many people still came to view.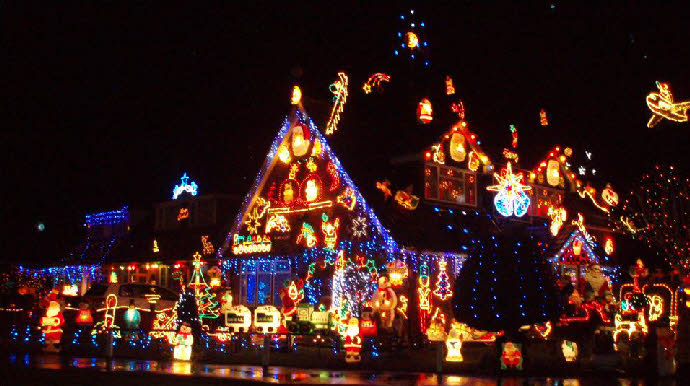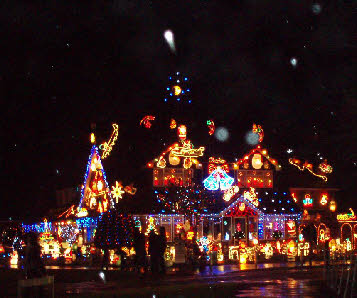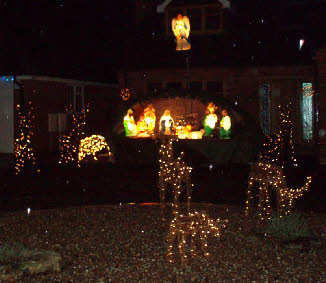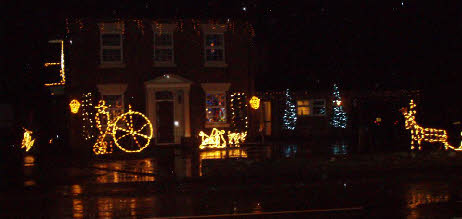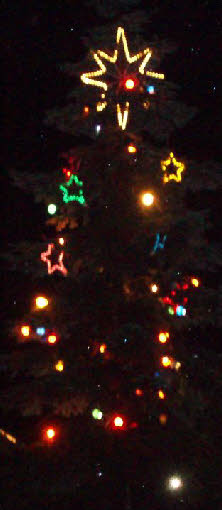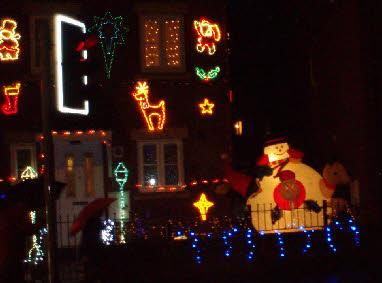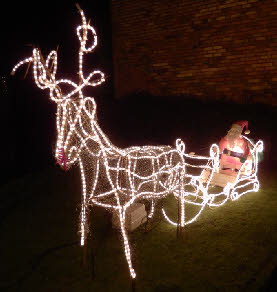 Visitors could leave a donation in aid of good causes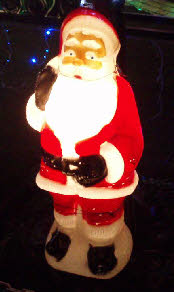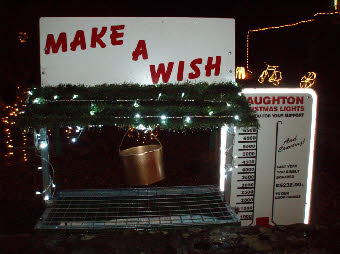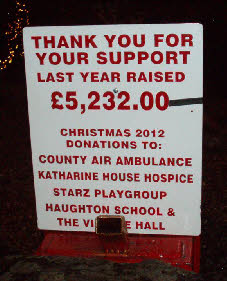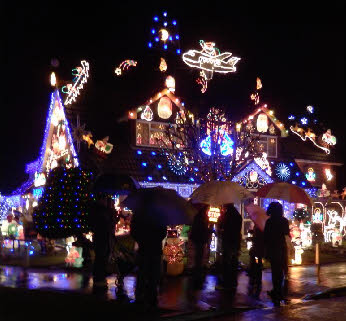 It didn't always rain ...


There are many more images of
Haughton's Christmas Lights
available to view
Click on the themed links below
Many thanks to all those who illuminated their houses for the pleasure of those outside.
Many thanks to all who placed gifts of money in the collection boxes.
This message was left on the website email:

As a surprise for my birthday yesterday, 19th December 2012, my son, daughter-in-land my 3 year old grandson took me to your village to see the Christmas Lights.

Can I say that I was truly amazed by the effort of the people of the village to put on such a wonderful show for not only children but adults also. I wish you all well with the amount of money you collect for charity and I sincerely hope that you manage to raise in excess of the £5232 from last year.

God bless you all and wish the village a very Merry Christmas and a prosperous New Year. I shall look forward to attending in 2013 so keep up the good work.

From one happy Adult and her Grandson

(Thank you, Sheila from Pelsall. The appreciation means a great deal.)
On Thursday 3rd January the lights were switched off as the festive season drew to an end.
This year's
Grand Total
£6500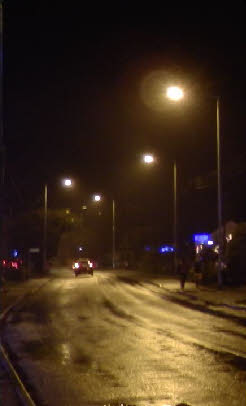 Charity Presentation Evening
The 2013 Charity Presentation Event took place on Tuesday 5th February at the Bell Inn. Fundraisers Bob Swinnerton and Bert Moore welcomed representatives from this season's chosen charities and presented the cheques. The Air Ambulance, Katharine House Hospice and Starz Playgroup each received £1600 and St Giles School Haughton and Haughton Village Hall each received £850.
In spite of the poor December and early January weather, people had come to view Haughton Christmas Lights in numbers and donated with great generosity. Mr Swinnerton explained that this was the ninth year of fundraising and that the Grand Total of £6500 was a record. He thanked everyone who had donated and all who had taken part in the village by lighting their houses and gardens.
Katharine House Hospice and the Air Ambulance also received cheques from money raised by Richard Bowler and Roger Perry through the Haughton and District Old Friends Tractor Run. Unfortunately, due to the extremely wet weather, the planned 10th and final road run had to be cancelled. However, money was still raised from the sale of calendars showing pictures of last year's run and £800 was presented by the two organisers.
The representatives of the charities expressed their gratitude and the evening finished with a finger buffet.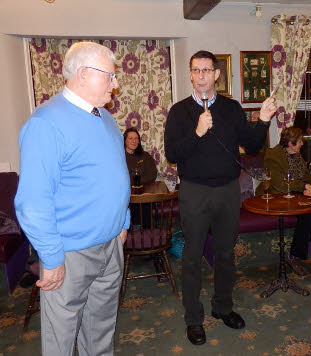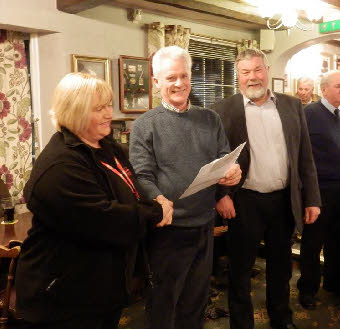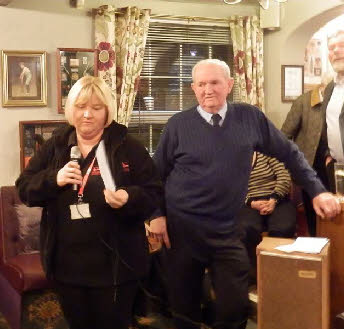 Jo Bailey, accepts a cheque for money raised by Haughton Christmas Lights from Bob Swinnerton (left) and a cheque for money raised by HAFOD Tractor Run from Roger Perry and Richard Bowler (right) on behalf of the Midlands Air Ambulance
Bert Moore listens as Peter Skelson, Chairman of Haughton Village Hall Committee, expresses his gratitude for the receipt of the cheque
From left to right, Bert Moore, Peter Rowley, (Governor of Haughton St Giles Primary School), Peter Skelson, (Chairman of Haughton Village Hall Committee), Lesley Bennion, (Katharine House Hospice), Roger Perry, Jo Bailey, (Midlands Air Ambulance), Richard Bowler, Melita Edge, (STARZ pre-school playgroup) and Bob Swinnerton